Sports enthusiasts or not, most people are likely to have seen at least some footage of the Olympic Games at some point in their lives. The Olympic games have become increasingly popular over the years and the chance to host the games is highly sought after. Each host nation seeks to make their games the most memorable, the most iconic. It is a chance to showcase not only their sporting talents, but also to shine a spotlight on their cultural wealth and national heritage. The hosting country will perhaps aim to do this through the careful selection of architectural design for new venues, the opening ceremony, and of course through the design of their Olympic emblem/logo.
The bidding process to become an Olympic host takes nine years, and when Tokyo was chosen back in 2013, they soon set about commissioning the design of their logo. Following a problematic start in which their initial chosen logo design had to be scrapped on account of plagiarism, a new design competition was launched. The guidelines for the project were made public in October 2015. By the closing date in December, they had received 14,599 submissions! 110 members of the Emblems Selection Secretariat then whittled these designs down to just 4 to be evaluated by the Emblems Selection Committee.
The Design Brief
The brief, which was very strict in practical terms was also very open in creative terms. Key concepts for the logos were:
"The power of sport"
"Japanese-ness and Tokyo-ness"
"World peace"
"Personal Best and Utmost Efforts"
"Sense of Unity and Inclusion"
"Innovativeness and Future-oriented"
"Reconstruction and the Power to Rise Up"
The submissions were to consist of two separate designs – the Olympics and the Paralympics which were to appear to belong to the same family.
It is interesting to see how the brief has been interpreted differently in each submission.
The Chosen Emblem/Logo
The harmonised chequered logo was created by Asao Tokolo
The Olympics website states "Composed of three varieties of rectangular shapes, the design represents different countries, cultures and ways of thinking. It incorporates the message of "Unity in Diversity." It also expresses the fact that the Olympic and Paralympic Games seek to promote diversity as a platform to connect the world."
…"and this chequered design in the traditional Japanese colour of indigo blue expresses a refined elegance and sophistication that exemplifies Japan."
Fonts
The font used in the logo was designed by the renowned font developer Morisawa. Morisawa is dedicated to the development of universal design (UD) fonts, which take into consideration readability by all, and on a global scale. The Tokyo 2020 font has been designed in both Japanese and Latin alphabets. The Japanese version includes 23,058 characters whereas the Latin version has around 300. Both sets include light, regular, semibold, bold and heavy variants in both plain and italic.
Colour Palette
The emblems themselves use one indigo blue colour which is simple and refined. Dark blues used in branding are typically seen as conservative or traditional, sophisticated and stylish.
Alongside this blue there are a range of 5 complementary traditional Japanese colours which will be used for the accompanying pictograms
Pictograms
The first ever pictograms were created when Tokyo held their first Olympic games back in 1964. The new pictograms are a development of the original designs and were created by Masaaki Hiromura.
Mascot
The mascots were designed by Japanese artist Ryo Taniguchi and were selected after a competition in 2018. The final design was chosen by Japanese primary school children.
The Olympic mascots are usually representations of the cultural heritage of the host nation. They are usually designed to help the Games appeal to a younger audience and can generate huge revenues in merchandising and licensing deals. Tokyo 2020 has two mascots, both incorporating the chequered design of the emblem. Miraitowa, meaning Future and Eternity is blue, while Someity (sounds like so mighty), named after cherry blossom, is pink.
Brand Guidelines
There are two sets of brand guidelines for the games. The main brand and the sub brand. These ensure correct usage in all possible applications from the signage around the venues, ticketing and advertising, use in media, clothing and merchandising.
Application
In practical terms we all expect to see the logo in use in print and broadcast media, however there are more subtle uses of the logo such as on the medal ribbons, ID lanyards and volunteer and technical officials uniforms.
The volunteers and technical officials are games ambassadors and as such should represent the games in attitude and appearance. Technical officials have been issued with formal and casual sets of uniform.
The formal clothing range was designed by AOKI Holdings. It is gender neutral and consists of dark grey trousers, a light blue shirt and a navy jacket. The Jacket lining, ties and scarves use the Japanese shade kurenai, and all feature elements of the games emblem.
The casual clothing range, designed by ASICS is worn by officials and volunteers and consists of grey zip-off trousers, a loose-fitting polo shirt and lightweight zipped jacket. The Jacket and polo both use shades of kurenai and again feature the blocks from the games logo.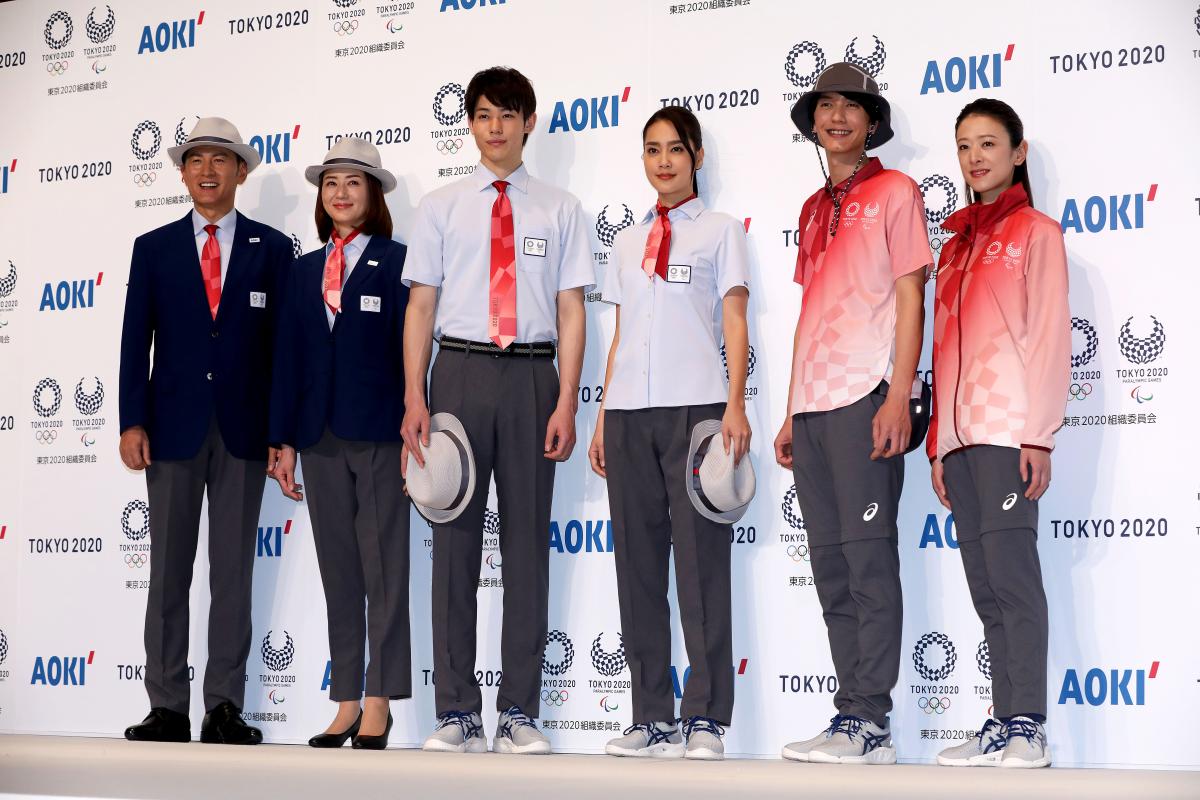 So what ideas can we take from the games branding project to use in our own businesses?
Whilst it is unlikely that the small business owner would have same resources as the Tokyo games organisers, there are a number of key points which the new or potential business owner can apply to their own branding project.
Business ethos
What does your business stand for? What are your values? It can help to have these written down as a mission statement. This can then inform the development of your brand and your working practices.
Logo design process
Decide what elements or concepts you want to express in the design
Set a clear brief for your logo design. This will save time and increase the chances of the designs meeting your requirements.
Choose a reputable designer. Look at their portfolio and read their client feedback. This should give you an idea of the quality of their work, their style and help to avoid pitfalls such as template logos or copyright infringements.
Have a defined group of people to help with the selection process. Make sure they are all aware of the brief.
Time
Allow time for the project to be completed to a high standard.
Establish brand guidelines
These can be formal or informal. If you have a good relationship with your graphic designer you can work together with them to establish consistency as your business grows. If you plan to use a range of different designers, it is a good idea to have some written brand guidelines to ensure consistency throughout.
Brand protection
Brand guidelines will help to keep your brand strong, but it is also worth considering registering your business name and logo in order to prevent unauthorised use of your name or brand, or to prevent a new business trading under the same name.
Brand identity
The logo is just the start of the project. Once the main elements of the business marketing materials have been developed – stationery, website, printed materials – you may wish to look at equipment, uniforms and vehicle livery, maybe even the interior design of your premises. How will these help project the identity and ethos of your organisation? These details can really help to project a positive image to your potential customers.
Mascot
In time you may even decide to come up with your own mascot(s). One very successful example of the use of a mascot by a business is the meerkat characters Aleksandr and Sergei by Compare the Market. Such mascots can feature in your marketing campaigns and are a friendly, more appealing face to engage new customers with your business, especially if your product/service is perceived as "a bit boring". In some cases a successful mascot may even become income generators themselves.
Get Started
So you can see that there are many aspects of the Tokyo 2020 project which can be applied to your own business projects regardless of the scale. If you are unsure of how to get started with your logo design project feel free to get in touch. am:pm graphics has over 17 years experience in designing logos for a whole range of businesses and organisations. And don't worry if you don't have an Olympic sized budget – our logo design packages start from just £89!